The haunted house is a staple of the American town, from the most haunted places in New York State to the ghostly homes that make up some of the haunted places in L.A. to get spooked at. The stories behind these homes—of ax murders and massacres, of lost children, angry demons and ghosts—will give you more shivers than even the best Halloween movies. But a select few have tales that burrow a little deeper into the soul: these are the scariest haunted houses in the US.
Scariest haunted houses in the U.S.
1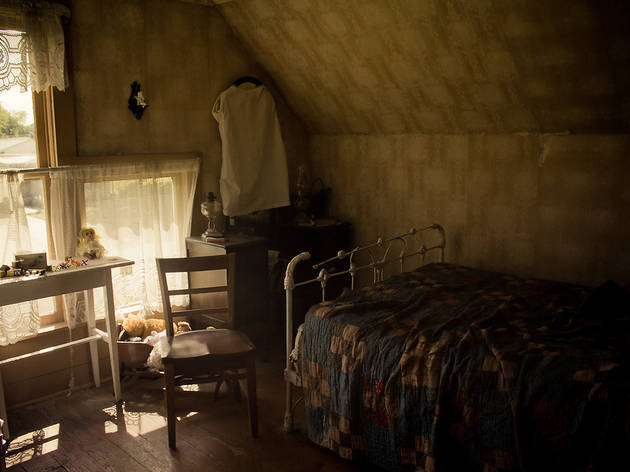 Photograph: Courtesy Creative Commons/Flickr/Jennifer Kirkland
Villisca Axe Murder House, Villisca, IA
On June 10, 1912, Josiah and Sarah Moore, their four children and two visiting guests were bludgeoned to death inside this quiet Iowa home. The crime remains unsolved and much of the home is still intact from that fateful night, with no running water or electricity, which provides that special 'ambiance' for the many who have shelled out $400-plus to stay a night. But visit the Villisca Axe Murder House at own risk: In 2014, a paranormal investigator who booked a room wound up stabbing himself by morning.
508 E 2nd Street, Villisca, Iowa
2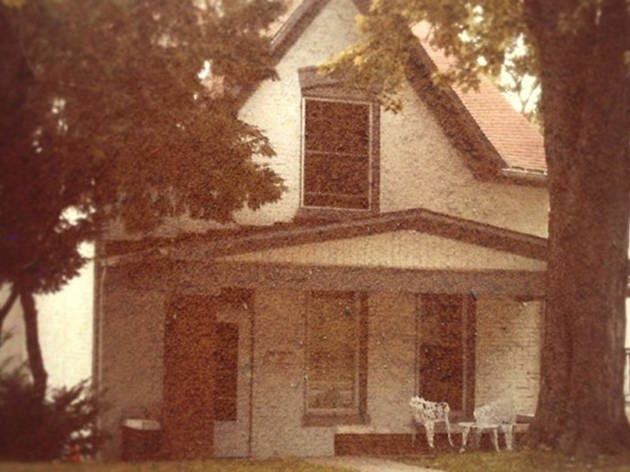 Photograph: Courtesy Creative Commons/Flickr/Jennifer Kirkland
The Sallie House, Atchison, KS
Legend has it that the cause of all the mayhem at one of the most disturbing haunted houses in America stems from a little girl who was the victim of a botched appendectomy during a house call at the turn of the century. A family who lived in the Sallie House in the '90s documented their experience on the TV show Sightings, which talked of flying objects, frequent apparitions and scratching, gouging and shoving, mainly directed at the male owner. The home is now vacant but is a popular pick for paranormal researchers who have been asking if additional malevolent spirits have since moved in.
508 N Second Street, Atchison, KS
3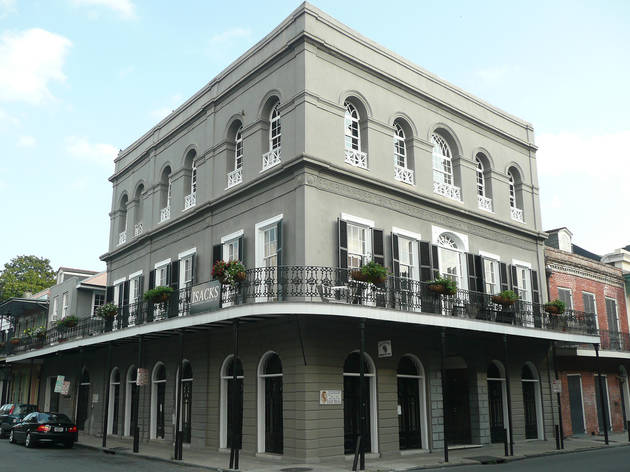 Photograph: Courtesy Creative Commons/Flickr/Reading Tom
LaLaurie House, New Orleans, LA
American Horror Story: Coven has reignited interest in this famous French Quarter haunt. In the series, Kathy Bates plays real-life socialite and serial killer Madame Delphine LaLaurie, who orchestrated a torture chamber for slaves at the Royal Street mansion from 1831 until 1834, when responders to a fire uncovered her dark secret. LaLaurie's victims are said to haunt the property to this day—passersby say they can hear shouts, moans and weeping, and some say they have seen ghostly faces from the upstairs windows. Yet, the house's ghastly history hasn't stopped wealthy buyers. Before losing the home to foreclosure in 2009, actor Nicolas Cage owned the house and today a wealthy oil tycoon is said to hold the deed.
1140 Royal Street, New Orleans, La
4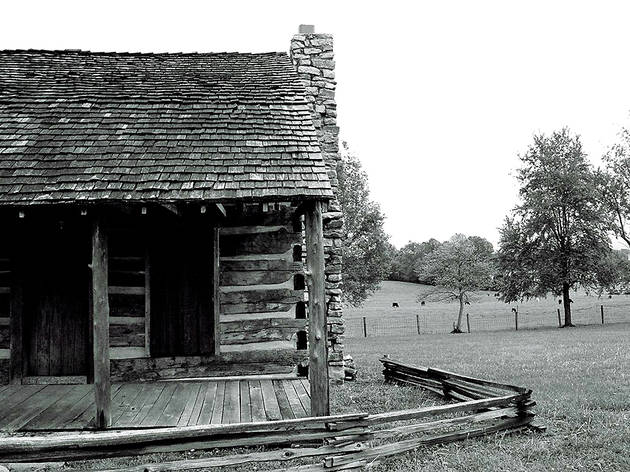 Photograph: Courtesy CC/Flickr/Nathan Sharkey
Bell Witch Farm, Adams, TN
It's the age-old tale of neighbors at war: A woman named Kate Batts believed her neighbor John Bell cheated her out of some land, and so, lying on her deathbed in the early 19th century, she swore she would haunt him forever. The Bell family said they experienced physical attacks, heard chains dragged across floors, noises in the walls and saw odd-looking animals on their farm, including a dog with a rabbit's head. Today you can tour the property's cave and reconstructed cabin and stop by for the annual Bell Witch Festival.
430 Keysburg Road, Adams, TN
5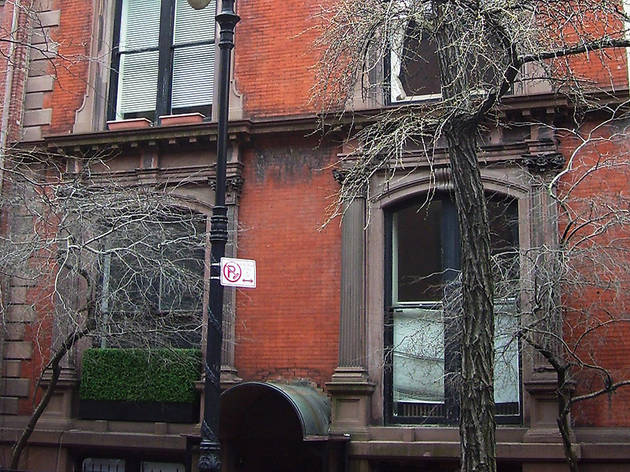 Photograph: Courtesy Wikimedia Commons/Beyond My Ken
House of Death, New York, NY
The city that never sleeps is probably just too afraid of the House of Death to close its eyes—the famous brownstone off of Fifth Avenue that is reportedly terrorized by a whopping total of 22 ghosts. The most famous is writer Mark Twain, who lived here from 1900-1901; the most heartbreaking is the six-year-old girl beaten to death by her father, criminal prosecutor Joel Steinberg, in 1987. In addition to sightings of Twain and the young girl, residents say they have seen visions of a lady in white and a gray cat.
14 W 10th Street, New York, NY
6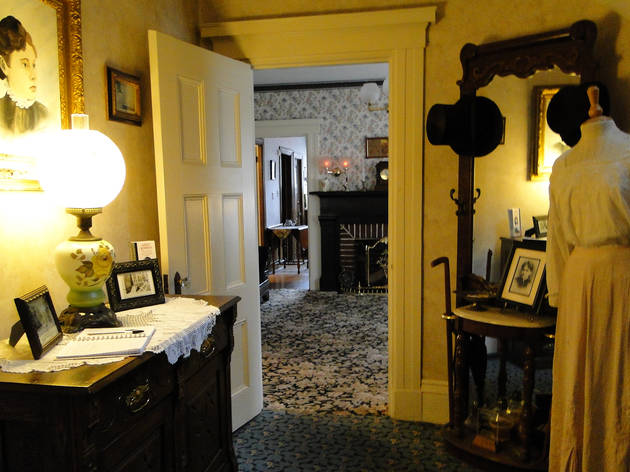 Photograph: Courtesy Creative Commons/Flickr/Amy Meredith
Lizzie Borden House, Fall River, MA
Lizzie Borden is still laughing about getting away with murder—according to some. Late at night she can be heard cackling at the top of the stairs near where she gave her stepmother "forty whacks." But she's not the only spirit who haunts the scene of the 1892 crime. Both of her axed parents are said to stalk the grounds, as does a maid screaming for help, according to guests of the now museum and B&B. Lizzie Borden House attracts guests from all over the world, especially for the anniversary re-enactment every August.
230 2nd Street, Fall River, MA
7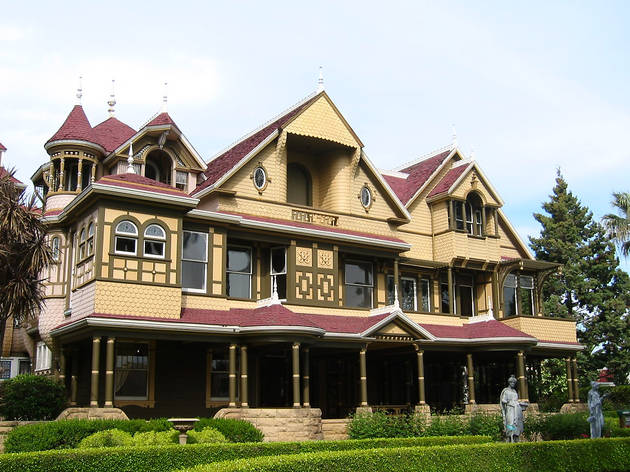 Photograph: Courtesy Creative Commons/Flickr/Julie Markee
Winchester Mystery House, San Jose, CA
Her husband developed the "gun that won the west"—which came back to bite Sarah Winchester in the butt. After losing her husband and a young daughter, the widow Winchester consulted a spiritualist who alleged the family was being haunted by American Indians, Civil War soldiers and others killed by the famous rifle. It was recommended that Winchester move west and use her $20 million inheritance to continuously build a home to appease the spirits. What was erected between 1884 and 1922—now known as the Winchester Mystery House—was a sprawling 160-room mansion with haphazard architecture that leads touring guests to nowhere, though there are spirit guides.
525 S Winchester Boulevard, San Jose, CA
8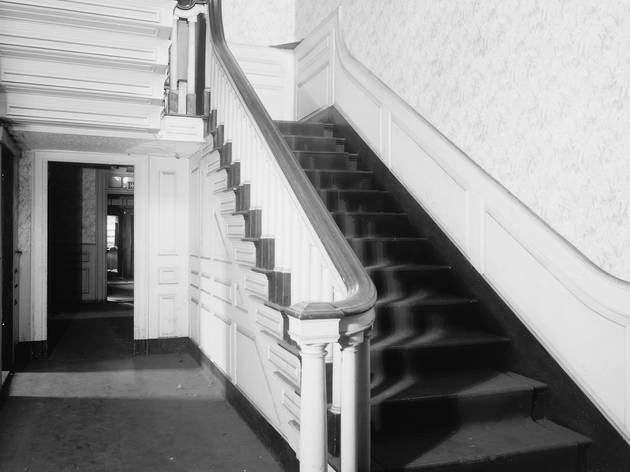 Photograph: Courtesy Wikimedia Commons/Library of Congress
Joshua Ward House, Salem, MA
This brick mansion, built for a prominent merchant in 1784, is at the exact site where Sherriff George Corwin—a major figure in the Salem Witch Trials—lived, died and was buried in 1697 (though later exhumed). Corwin was known as "the strangler" for the 19 men and women executed for witchcraft under his watch. He is said to still creep around the grounds, with some visitors claiming they have been "choked" by him, and he's apparently not alone: One of his victims was famously captured in all her disheveled glory by a realtor taking photos of the property.
148 Washington Street, Salem, MA
9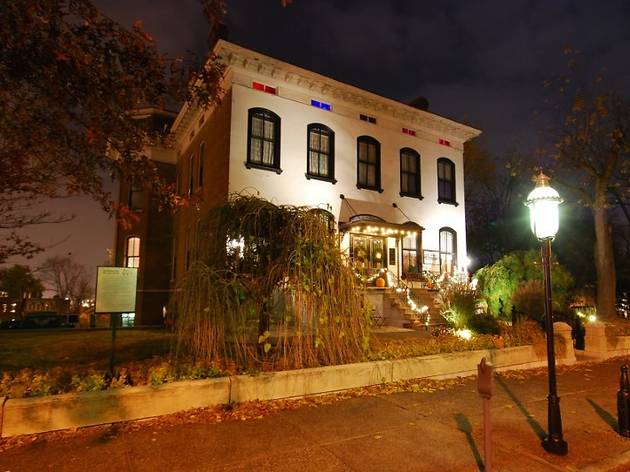 Photograph: Courtesy Wikimedia Commons/Matt Hucke
Lemp Mansion, St. Louis, MO
Even all the beer in the world won't necessarily lead to happiness. Case in point: The Lemp family, purveyors of Lemp Brewing Company, a stalwart in St. Louis before prohibition hit. Four members of the family killed themselves between 1904 and 1949, three of them inside the 33-room Victorian mansion where they allegedly still reside, haunting guests of the converted restaurant and inn. It has been listed by Travel Channel as one of the most terrifying real haunted houses in America.
3322 Demenil Place, St. Louis, MO
10
Haunting In Connecticut
'Haunting In Connecticut' House, Southington, CT
The drama the Snedeker family experienced in the '80s living in this haunted house (and former funeral home) was crazy enough to be turned into a popular horror flick in 2009 (that pic is of the movie house—the real house, a private residence, remains shrouded in mystery). During a two-year span, both of the Snedeker parents claimed to have been physically assaulted and sodomized by demonic spirits, and said their son Philip was often visited by a creepy man with long black hair. A new family claims the home is spirit-free and "normal", except for the routine drive-bys, which have often forced police to add backup patrols.
208 Meriden Avenue, Southington, CT
11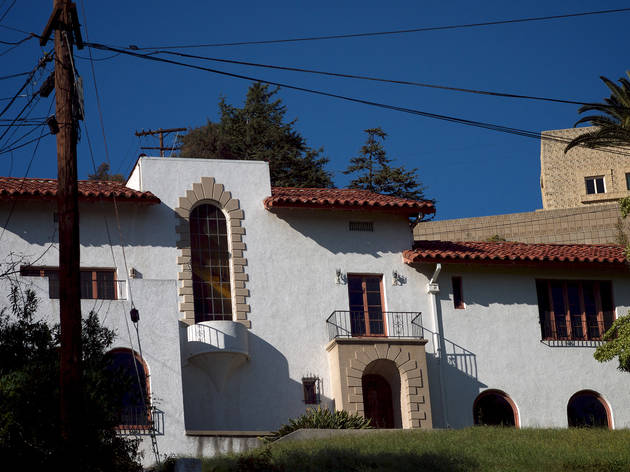 Photograph: Courtesy CC/Flickr/Jeremy Sternberg
Los Feliz Murder Mansion, Los Angeles, CA
Goths love to picnic in the backyard here and several major news publications have written about the hauntings experienced by trespassers to this mysterious murder house. In 1959, Dr. Harold Perelson beat his wife to death with a hammer in the mansion, severely wounded his daughter and then drank a glass of acid to off himself. The Enriquez family bought the dilapidated structure at auction years ago and used it only for storage purposes. In the spring of 2016, the house was finally cleared of the clutter—much of it dating back to the mid-20th century—and put up for auction, but that hasn't culled locals' interest in it.
2475 Glendower Place, Los Angeles, Ca
12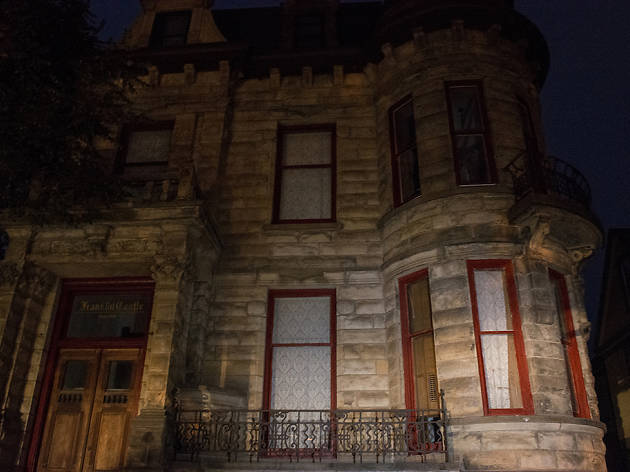 Photograph: Courtesy CC/Flickr/ Tim Evanson
Franklin Castle, Cleveland, OH
On Cleveland's Franklin Boulevard, locals still whisper rumors about the original owner of the 20-room-plus 19th century dwelling. In just a few short years in the 1890s, the mansion became the place of death of four of Hannes Tiedemann's adolescent children and his wife. Though Tiedemann was never found guilty of any wrongdoing, today some people claim he hung his 13-year-old illegitimate daughter and made it appear like a suicide and that he killed his mistress in a secret passage. Known as "the most haunted house in Ohio," the castle is rumored to be visited by ghosts.
4308 Franklin Blvd, Cleveland, OH
13
Photograph: Courtesy Yelp/Aimee K.
Farnsworth House Inn, Gettysburg, PA
The waiters at this inn won't be the only ones dressed up in Civil War-era clothes—expect to see some long-dead Confederate soldiers clad similarly ass well. During the Battle of Gettysburg, many of the South's soldiers hid and died, which explains the one-hundred-plus bullet pocks in the brick walls. After the fighting in the area was over, the house became a hospital for soldiers. Whether at the inn or in the area, learn about some of the weird supernatural occurrences during a ghost tour.
401 Baltimore Street, Gettysburg, PA
14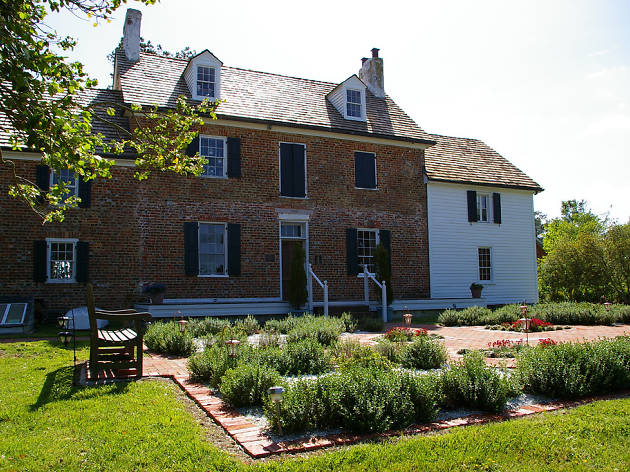 Photograph: Courtesy Creative Commons Flickr/Allen Brewer
Ferry Plantation House, Virginia Beach, VA
A total of 11 reported spirits have been known to haunt the grounds, including passengers of a ship wrecked ferry, a former slave and Grace Sherwood, a woman who was accused of being a witch and was tried by ducking in the 1700s. These days, when you visit the historic house museum to admire the Federal-style architecture, listen carefully and you might hear Grace yelling at her dead dog, Tobias.
4136 Cheswick Lane, Virginia Beach, VA
15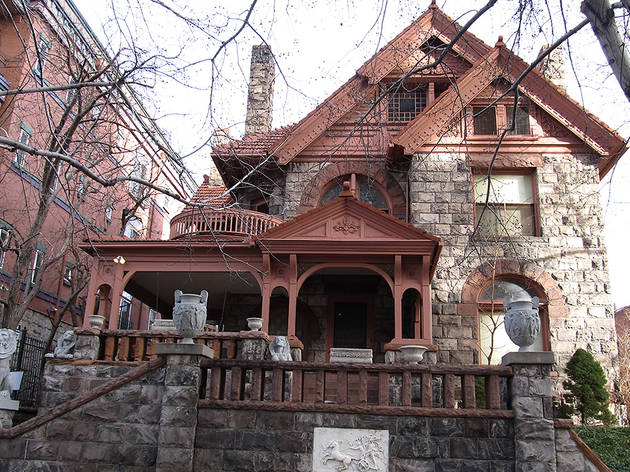 Photograph: Courtesy Creative Commons/Flickr/Ken Lund
Molly Brown House, Denver, CO
The "Unsinkable Molly Brown" was one of the only people to survive the Titanic, but she wasn't entirely unstoppable: She died in New York in 1932. It's said Brown (along with her husband and mother) still haunts the prized Victorian home, acquired in 1893, where she spent much of her adult life and which is now a museum with artifacts from her life. Visitors say they have seen apparitions in the dining room, rearranged furniture and similar strange occurrences in the former room of Brown's child, Catherine, who died at a young age.
1340 Pennsylvania Street, Denver, CO